About Vijay Jojo Chokalingam
"I am not some Harvard, Stanford, or USC student who only got in because of the schools' racially discriminatory admissions policies. I went to UCLA so I had to earn my degree."
Vijay Jojo Chokal Ingam (Chokalingam) is an "Affirmative Action Hacktivist" who was successfully admitted to the St. Louis University (SLU) School of Medicine by posing as a black man, despite having a pitifully low GPA. Vijay detailed his misadventures masquerading as a black man in his recent book Almost Black. His story has been featured on more than 100 media outlets, including CNN, NBC, ABC, TIME, FOX, and Huffington Post.
Vijay received his B.A. in Economics without distinction from the University of Chicago, where his more academically gifted classmates included Tucker Max (the New York Times best-selling author of I Hope They Serve Beer in Hell / Sloppy Seconds and the founder of the "fratire" literary genre). After failing out of medical school, Vijay got his act together and became a CFA charterholder, an advanced accreditation in finance. He even succeeded in gaining admission to the UCLA Anderson School of Management, a top-ranked business school. This time, Vijay did not pose as a black man, since UCLA does not practice affirmative action in admissions.
Professionally, Vijay works as a career coach, resume writer, and admissions consultant for SOSCareerService.com. He has helped thousands of clients get into top educational institutions and secure prestigious jobs by helping them with their resumes, personal statements, application essays, and interview preparation. For the record, Vijay NEVER advises his clients to lie about their race in their applications. He is an active member of several writers' communities, including the GrubStreet creative writing center, the Greater Los Angeles Writers Society, and the UCLA Writers' Program.
Vijay is the brother of Mindy Kaling, actress (The Office), comedian, New York Times best-selling author (Is Everyone Hanging Out Without Me?  / Why Not Me?), and the creator of the Fox and Hulu sitcom The Mindy Project.
Follow @almostblack, and use the hashtag #almostblack on Twitter to share your thoughts on Vijay's book, affirmative action, and beyond.
Vijay is a frequent speaker on race relations, university admissions, and career issues. Contact him through the Contact Vijay page on the website if you are interested in requesting Vijay as a speaker.
About Matthew Scott Hansen
Vijay approached Matt after reading his Andy Kaufman Revealed! and Dennis Rodman books and asked him to be his coauthor.
Originally from the Northwest, Matt received his Communications BA from Washington State University. He entered the advertising field, first as an account executive, then as a creative director. He left advertising to pursue a career in radio and television. In Seattle, Matt co-created, produced and syndicated a radio comedy series, Radio Free Comedy.
Moving to Los Angeles, Matt worked various jobs in entertainment, including developing a TV comedy series for Norman Lear, a sitcom for the Carsey-Werner Company, and producing a comedy show at Fox Television. He was also hired to write and rewrite features and television screenplays for various production companies. Matt worked as the personal script doctor to two high level television producers, rewriting their scripts and helping develop pilots for them. They produced long running shows for ABC and had a pilot development deal at NBC.
Writing comedy feature specs, Matt and his partner made seven-figure sales to Barry Levinson and Paula Weinstein's Spring Creek Productions at Warner Bros. (Pest Control) and Tom Shadyac's Shady Acres Entertainment at Universal (Cross Dressing). The novelized version of Pest Control (published by Avon and Wm. Morrow and more than ten foreign publishers) has become a bestselling novel, a stage play, and a radio comedy play. Of their comedy spec, Heartless, their management team at Brillstein-Grey said "it was one of the funniest scripts they had ever seen." The script became a novel, Heart Seizure, (published by Wm. Morrow).
When offered the opportunity to write books, Matt segued into the publishing industry. All
of Matt's book proposals have sold for at least six figures, including one to Bantam for $600,000. His 1999 book, Andy Kaufman Revealed! (published by Little, Brown and a number of foreign publishers) was a bestseller and the basis for the film Man On The Moon, starring Jim Carrey. The Hollywood Reporter called the book, "hilarious, eminently readable, and perhaps the funniest book about a Hollywood performer's career."
As an author, Matt has had publishing deals with many major US publishers, including Simon & Schuster, Avon, Dove, Harper Collins, Reganbooks, Little, Brown, Bantam, William Morrow, and more than 25 foreign houses.
Matt added ghostwriting to his resume, completing a true-life thriller for a Russian/Uzbeki investment group, as well as a book about a little known chapter of Marilyn Monroe's life, published by Createspace and sold by Amazon Digital Services. Matt is in production of No Fall Zone, the memoir of extreme skier and commodities guru, Olav Ruud. The Marilyn Monroe book was recently chosen by a prestigious book list as being one of the "20 Best Books on Marilyn Monroe."
Matt has also written books about NBA legend Dennis Rodman (Worse Than He Says He Is, for Dove Publishing/now Newstar Media–written under pseudonym Alexander Scott), music and television impresario Bob Eubanks (It's In The Book, Bob, published by Benbella Books), and the Enron Corporation (House of Cards: Confessions of An Enron Executive, originally Harper Collins-Reganbooks, now Authorhouse). Billionaire investor Warren Buffet was so impressed with the Enron book he bought 300 copies for friends and associates.
Matt is currently under contract writing the memoir of a world-renowned shoe designer. He is also in the process of writing or marketing two other non-fiction book proposals for clients. Additionally, he just finished another work of fiction, and is writing a new thriller novel for his agent, Jill Marr of the Sandra Dijkstra Literary Agency.
Matt is working with a London production company to sell his crime drama television series, Illegal. He also has other projects he is shopping, including the feature screenplay to a high concept action thriller. He is exploring finance options to produce the film version of his 2007 horror thriller, The Shadowkiller, published by Simon & Schuster.
Information about my coauthor can be found on his website.
About Spencer Cannon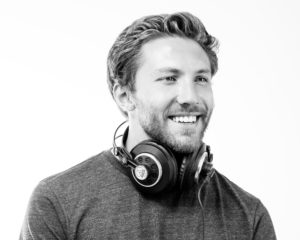 Spencer Cannon is the voice actor for the awesome audiobook version of Almost Black. Spencer began his acting career shortly after graduating from the University of Utah. Fully intending to pursue a degree in law, he instead fell into the world of voice acting and never looked back. He has lent a youthful and energetic feel to his recordings, working with some of the world's largest companies including Fox Sports, Uber, MillerCoors Brewing Company, and many others. His penchant for character work and narration is also exceptional, which has led to numerous audiobook and video game credits.
Spencer currently resides in Salt Lake City, Utah, where he enjoys his passion for the outdoors. To learn more about him, visit his website.