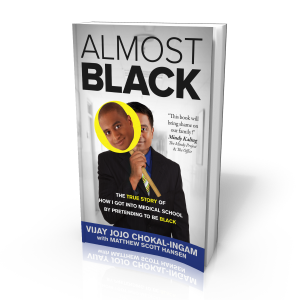 I got into medical school because I said I was black. The funny thing is, I'm not.
In my junior year of college, I realized that I didn't have the grades or test scores to get into medical school, at least not as an Indian-American.
Still, I was determined to become a doctor and I knew that admission standards for certain minorities under affirmative action were, let's say… less stringent?
So, I shaved my head, trimmed my long Indian eyelashes, and applied to medical school as a black man. My change in appearance was so startling that my own fraternity brothers didn't recognize me at first.  I even joined the Organization of Black Students and started using my embarrassing middle name that I had hidden from all of my friends since I was a 9 years old.
Vijay the Indian-American frat boy become Jojo the African American Affirmative Action applicant to medical school.
Not everything worked out as planned. Cops harassed me. Store clerks accused me of shoplifting. Women were either scared of me or found my bald power dome very attractive. What started as a devious ploy to gain admission to medical school turned into a twisted social experiment.
I became a serious contender at some of the greatest medical schools in America, including Harvard, Wash U, UPenn, Case Western, and Columbia. In all, I interviewed at eleven prestigious medical schools in 9 major cities across America, while posing a black man.
Not bad for a kid with a 3.1 college GPA, heh?
My plan actually worked. Lucky for you, I never became a doctor.
Almost Black: The True Story Of An Indian American Who Got Into Medical School Posing As An African American combines the comic tone of the 1986 movie Soul Man starring C. Thomas Howell and James Earl Jones (hopefully a helluva lot funnier than that film), with the deep, poignant and often wrenching observations of John Howard Griffin's Black Like Me. Resembling a mashup of the two works (but weighted far more toward the funny), I was a hard-partying college frat boy who discovered the seriousness and complexity of America's racial problems while posing as a black man. In Black Like Me Griffin was a white man posing as a black man in the pre-Civil Rights Act of 1964 American South. I wasn't on some intense social mission as he was, but I came away changed, as Griffin did.
I am co-writing the book with Matthew Scott Hansen. Matt and I are represented by Jill Marr, an acquiring agent at the Sandra Dijkstra Literary Agency. We are currently looking for a publisher. We are also working on a screenplay adaption.